01 02

03 04 05 15 16 19 20 21 22 23 24 25 26 27 28 31 32 33 34 We have had one of those weeks where we were busy but I can't for the life of me remember what all we did at the minute.

I miss caffeinated coffee.

On Wednesday morning, we met Eryn, Evie, Gracie, Clint, Leigh Ann and Hayley at our Chick Fil A for their free breakfast special. Nathan and Evie had a fabulous time feeding each other the chicken minis.


I love those two.

I've been trying to be more proactive as far as having actual "learning time" with Nathan. He's getting old enough to where he's picking up so much so quickly and I feel like if I make the time to really teach him his ABCs and colors rather than just sing them in the car, he might enjoy learning them. :) So, we picked up some flash cards on sale at Walmart and so far, he's been enjoying them for .007 seconds before he wants to play with his cars or read books again. ;)

I have a deadline for the second novel in the new upcoming Paige series on December 1st, so that's been taking up a lot of my free time lately since I got a little ways behind of where I wanted to be with everything that happened this summer.

Friday night we met Clint, Leigh Ann and Hayley for an impromptu dinner at Rudy's. The kids were hilarious.



I really hope that Nathan someday comes up to me and thanks me for surrounding him with all of these beautiful girls. ;)


Then Saturday, we celebrated my parents' 30th anniversary. We made them a fajita dinner and got them this wine barrel sign. I was so happy the sign turned out so well!


One of Nathan's favorite parts of every weekend - eating popsicles in the pool with Pops. He was shocked when Caleb ate a popsicle inside the other day and kept saying, "Eating it out of the pool?" like "I did not know that was possible!" Ha!



My baby boy. I do not think I could love him any more. He's the sweetest, funniest, goofiest, most aggravating child I know. ;) Two is going to be a very interesting year!!



In the day of trouble I shall call upon You,

for You will answer me.

For You are great and do wondrous deeds;

You alone are God.

-Psalm 86:7&10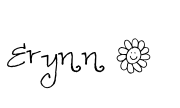 35 36 37 38