01 02

03 04 05 15 16 19 20 21 22 23 24 25 26 27 28 31 32 33 34 Just in time for summer reading! (Preferably by a pool or a beach, right??)



Yay!! :) I'm so excited for you guys to meet Lexi and her crazy family. I do hope you enjoy Identical Differences! Here's a little blurb for you:

Alexia Patterson has spent her whole life waiting to get out of small town Longsville, Oregon. Her twin sister, Rachel, is a completely different story. When Rachel calls to tell Lexi that she's engaged and asks her to come back for a few weeks before the wedding, Lexi is anything but eager to go home. Add in Justin MacPherson, a guy she's hated since junior high, and the two weeks are not looking good. Surely God's plan isn't to make Lexi insane...right?

This is a Kindle-only release but you can still read it even if you do not own a Kindle! If you have an iPhone or smart phone, you can download a free Kindle app from your App Store. Or, if you have a computer, you can download a free app for your computer (follow the links here!). :)

And, to stick with the theme of good summertime happenings, how about a little contest?? If you'd like to win a free copy of Identical Differences on Kindle, leave a comment with your name and email address (if you'd like to avoid spammers, leave your email like this: erynnmangum AT gmail.com)

I'll draw the winner Sunday night! :) Yay!!!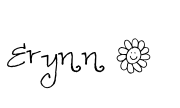 35 36 37 38