01 02

03 04 05 15 16 19 20 21 22 23 24 25 26 27 28 31 32 33 34 Well, friends, I do believe it is WAY past time for a contest and I have just the book to giveaway!

I'd like you all to meet Kim Havens. She's from Texas and originally contacted me about three years ago because her daughter is one of my cousin's dearest friends. And, as it turned out, we just happened to be headed to Dallas for a conference, so we got the chance to meet in person!


Kim is just about one of the sweetest women I've ever met! She let me read the first few chapters in her novel and I loved them. And a couple of months ago, she sent me a copy of her book, Running Sideways, that she self-published.

I know there are SO MANY of you out there who have questions about self-publication, so I asked her a few questions and she gave me some great answers. :)


Hi Kim! I'm so glad you could join us on here today!! :) What was the most surprising thing to you about self-publising?

I was surprised by how much input the I actually had in the process. From start to finish, I literally decided everything from font size to cover layout.

Would you mind describing the process you went through to get it published?

I knew there were a lot of self publishers out there, so I spent some time deciding who I actually wanted to use. Once I chose Westbow, it was simply a matter of going to their website and purchasing a publishing package. The next day, I got a call from them detailing how the process would work. I then submitted my manuscript via email. About a week later, they sent me an editorial review, and assigned me a design team. I chose the font, font size, and where on the page I wanted chapters to start, page numbers etc. With the manuscript finished, the next step was the cover design. They asked for my specific ideas (book covers I wanted to emulate). I was given access to a website where I could choose a professional photo for the cover, or use one of my own. I chose the colors, font, and how exactly I wanted the cover to look. Once that was finished, I waited (very impatiently) to actually hold the finished product in my hand!

Tell us about the awesome cover design.


I designed my cover after perusing book stores and finding book covers that drew my attention- made me want to pick them up. I decided to send in a photo of my own for the cover- a good friend was my photographer and the two people in the photo are my daughter and her new husband. After the photo shoot we sat in the photographer's kitchen and edited the photo using both black and white and color elements. It was a lot of fun!

Does self-publishing include editing?

Editing was something I was very unsure about, and would probably do differently. I chose to not use the editing service offered by Westbow for a couple of reasons: 1. It was expensive- $4500 for my manuscript. 2. The edit sample they sent me didn't make a lot of sense. It was also an service that required another 4-6 weeks, and I wanted my book out before Christmas. If I had it to do over, I would definitely find an outside editor.

What was your favorite part of the process? And your least favorite part?

My favorite part of the process was the creative side- choosing my own fonts, cover, etc. My least favorite, was the uncertainty- wondering if the book was going to be as professional as I hoped.

I'm so excited your book is out now!! Can you tell us a little about it?

In Running Sideways, Medical missionary Meredith Thorne has spent years trying to outrun the demons of her past; a past that involves Tate Matthews. Confirmed bachelor Tate Matthews is a West Texas rancher content with his role as protector of his seriously ill twin sister.
Until Meredith returns to Flat Rock, Texas and turns Tate's world upside down.
In facing their painful secrets, can Meredith and Tate put away their bitterness and find a way to forgive each other, and save the life of a child?


***

SO... to win an autographed copy of Kim's book, leave a comment below with your first name and email address. If you want to avoid spammers, I'd leave your email address like this: erynnmangumATgmail.com. ;) I'll draw the winner on Wednesday!

Good luck to all of you!! And thank you again, Kim!! :)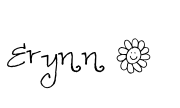 35 36 37 38