01 02

03 04 05 15 16 19 20 21 22 23 24 25 26 27 28 31 32 33 34
I had a great birthday! :) I got spoiled rotten by Jon, Nathan and my family. Thank you guys!! Love you very much! After celebrating all weekend, I'm bummed that it's over. :(

Anyways.


Nathan and I got our hair cut today! This was his first time getting it cut in a professional salon. He did AWESOME. I was worried that he was going to freak out or try jumping off the chair, but thankfully, he didn't do either one. :) He did practice some modeling poses though:


I thought he was about the cutest thing in the world while he was getting his hair cut. :)


This is our dear friend and hairstylist Jackie. We like her lots. :)


He's a real boy with a real boy haircut now. :) :(


I'd show y'all my haircut but one of my birthday presents was a bike and a helmet. And that's why I'm not going to show you my hair. ;) But we had a fantastic little family ride today. It's hilarious to listen to Nathan laugh and talk the. entire. time. ;)

I absolutely LOVED reading your contest entries! Thank you for all your sweet words and happy birthday wishes! You guys are the bestest! :)

AND...the winner of the autographed copy of your choice of novel is....


Ginger!


Congratulations!! Email me at erynnmangum[at]gmail.com and let me know which book you'd like!

And thank you all for entering! :)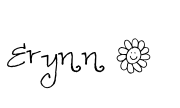 35 36 37 38