01 02

03 04 05 15 16 19 20 21 22 23 24 25 26 27 28 31 32 33 34 Nathan has had a cough for almost three weeks. It's off and on and some days are worse than others but it's mostly at night. I think he just can't shake it from his last cold, poor kid. :( Last night, we tried putting a pillow in his crib to see if that helped his coughing, which scared the daylights out of me. I kept going in to check on him and make sure it wasn't on top of his head.

We walked in right before we went to bed and he hadn't moved since we laid him down, which is very different. He's usually all over the crib! I thought he looked so sweet!


Today is Jon's first official day of vacation and we are going to soak up every second!! So, what's a better way to start Christmas vacation than to go meet Santa? Our favorite Santa is part of a Christmas Corral put on by a place that benefits a troubled kids' ranch here in town. The Christmas Corral is SUCH a cute place!!

Nathan wasn't too sure about Santa at first but he warmed up to him after playing around the adorable little Christmas village. Then he noticed that there were Christmas lights behind Santa's chair and that made him a HUGE fan!


I think this picture is so cute!


My new Christmas e-novella, The Christmas Watch, is coming soon!! So excited for you guys to meet Lindsey, Marcus and Jason!


What's your favorite Christmastime drink?? Please share the recipe! I got hooked on salted caramel hot chocolates last year and I've been itching to try something new! :)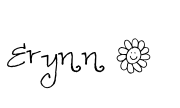 35 36 37 38