01 02

03 04 05 15 16 19 20 21 22 23 24 25 26 27 28 31 32 33 34 Just to give y'all a little bit longer to get your names in the hat for the Fall Fiction Frenzy drawings! :)

Here are a few of my favorites from the last couple of weeks. Excited to hear yours!

1. Jif Natural Peanut Butter


SO delicious! As a general rule, I don't like natural peanut butter. Mostly because of the texture and the fact that you have to stir it for like a decade before it's pliable and then you have to store it in the fridge where it gets rock hard and demolishes whatever bread you're trying to spread it on. But this stuff looks and acts exactly like normal peanut butter except without all the additives. YUM.

2.

Ramona and Beezus




I know, I know. I've mentioned this before. But I just absolutely adore this movie! Every single thing about it. If you haven't seen it, stop reading this blog, drive to the nearest video rental place and settle in with a blanket and a big cup of coffee.



3. Playing in our grassy backyard!




We're finally able to walk on it!! I think Nathan might have had a little bit of fun. :) It was very cold yesterday though, so we all had to bundle up.



4. Starbucks Verona Blend




To go with that

Ramona and Beezus

that you're about to rent. ;) It's hands-down my favorite coffee.



5. My little Tiger




Oh, how I love my little boy. And he is SUCH a boy. :)

He had his 15 month appointment today. He's finally starting to gain some weight! I'm planning a catch up post over the last two weeks and I'll write his stats down there. But I had to post this picture of him today after his doctor's appointment. Little doll. :)


Hope you're having a good day! Don't forget to get your comments in before tonight. :) And, if you'd like, I'd love to hear some of your favorites this week!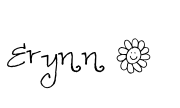 35 36 37 38