01 02

03 04 05 15 16 19 20 21 22 23 24 25 26 27 28 31 32 33 34 YAY!!! Look what I got in the mail yesterday! :)


It's the cover for Sketchy Behavior! That means it's almost

here

!! :)

And Zondervan was WAY sweet and sent me a few extra covers that I can give to some of YOU! I'm going to be giving away FIVE autographed covers!

Here's how to enter:

1. If you're not already a Follower of this blog, start following me with Google Friend Connect and then leave a comment that you did that (or have already been following my blog!).

2. Start following me on Twitter and then leave a comment letting me know you did that.

3. "Like" me on Facebook. (That just sounds weird.) And then... you got it... come back here and leave another comment. ;)

4. And lastly, sign up for my "monthly" newsletter (and I put monthly in quotes because HA. It's definitely not monthly). Then leave another comment!

Already do all of that?? Then just go ahead and leave four comments letting me know! And thank you

very

much! ;)

So, you've got four chances to stick your name in the hat. I'll draw five random winners on Monday and as a SPECIAL treat, I might just have to give away one autographed book as a grand prize to go along with one of those covers!!! :)

I love,

love

giveaways!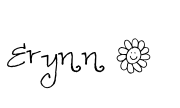 35 36 37 38