01 02

03 04 05 15 16 19 20 21 22 23 24 25 26 27 28 31 32 33 34 Not to sound too much like Rafiki off of

The Lion King

, but...

It is time.

Time for sunless tanners, that is. What can I say? I'm getting a little tired of people spontaneously bursting into "White As Snow" whenever I pass by them. Or pulling their sunglasses out at the sight of my arms. And since the weather has been SO nice lately, the arms have been a lot more visible to the general public.


In the past, I've used Jergens Natural Glow, but I'm not the HUGEST fan of the scent that seems to follow me around after I put it on until I take a shower.


My friend Jen uses Banana Boat Summer Color (and she's got gorgeous skin, so I can't really argue with her!). Plus, I've been around her after she's put it on and she still smells as pretty as she always does.

You guys have any suggestions?? What's your favorite sunless tanner?

We've been laying low the last couple of days, recovering from the madness that was our weekend. :) Nathan has discovered that he can pull himself up to a standing position, so now anything and everything exists just so he can try and yank himself up on it (my robe was the lucky winner earlier this morning).

I took his walker outside to the back porch yesterday so we could enjoy the pretty weather. He loved it and was too busy playing for me to get a decent picture of him!


I've been roasting a sweet potato for his lunch today - he's been eating jarred baby food, but I'd really like for him to eat homemade stuff. It's WAY cheaper (though, it's a lot bigger hassle, so we'll see how long this lasts!). He hasn't been a fan of homemade stuff yet, so we'll see!!

Another question for you budget-conscious people out there - how do you keep yourself to a grocery budget?? I try SO hard every single month and every single month I go over. Any advice is VERY welcome!!

Have a great Wednesday!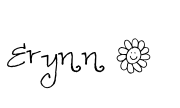 35 36 37 38